Emailed to Y11 Students & Parents 25/03/21
Year 11 Sessions at Easter
Please find below details of the subject sessions taking place over the Easter holidays for Year 11:
– English (all classes)
– Design Technology (all students in 11C)
– 3D Design (all students in 11B and 11C)
– Religious Studies (selected students only)
– History (all students in 11A and 11B)
– iMedia (all students in 11D)
– Health & Social Care (selected students only)
– Drama (all students in 11A)
– Music (all students in 11D)
– Hospitality & Catering (all students in 11A)
These sessions are being hosted by teachers to enable them to gather evidence for Year 11 'teacher assessed grades'. Please attend if you are able to do so. Parental consent is not required but please make sure your parents know when you are attending. All morning sessions start at 09:30 until 12:00 allowing 30 minutes break for lunch. The afternoon sessions finish at 15:00.
You can view a copy of the timetable below – or click on the text below to download a PDF version:
2021 – Easter Y11 Exam Prep Sessions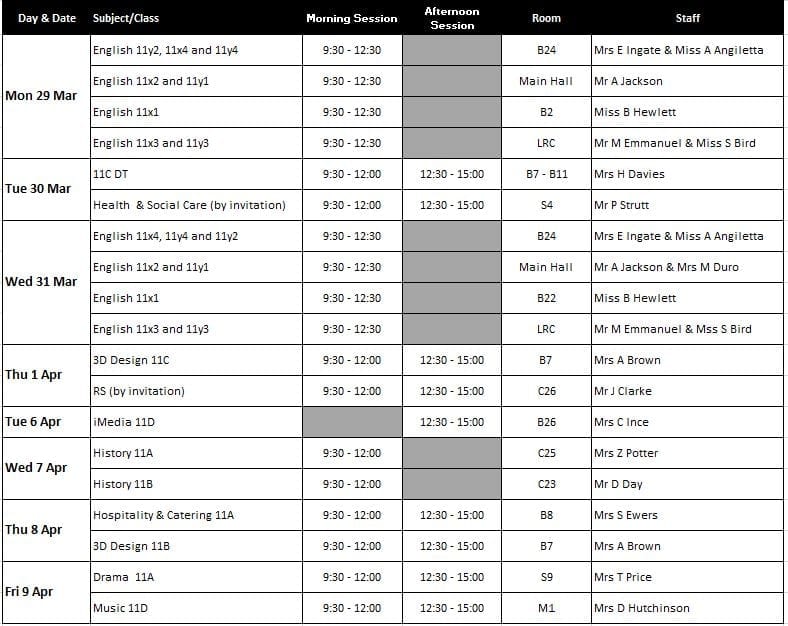 Sessions with Mr Clarke for RS and Mr Strutt for H&SoCare are by invitation only. If you are required to attend then you will receive a separate email.
On each occasion, you will need to enter and exit through main reception at the front of school. You will be met by a member of staff and you will need to sign in and out on arrival for the purposes of Health & Safety.
The Food Hall is not open so you will need to bring your own food and drinks – no fizzy or Energy drinks please.
School uniform is not required but we expect appropriate attire to be worn, ie no sleeveless tops or flip-flops.
Please continue to take the Covid-19 self-tests at home on Sunday and Wednesday evenings throughout the Easter holiday.
For students in 11D Design Technology, Mrs Davies has arranged for you to stay on after your double lesson on Tuesday 13 April to continue with the manufacturing of your final piece/prototypes to complete your NEA. This is an essential part of your project and will contribute to the final overall grade you are awarded. The session will finish at 18:00 and a pizza supper will be provided at school.
If you have any questions about the sessions, please contact your class teacher by email or speak to them in school tomorrow or at Year 11 virtual parents evening tonight.
Mr R Hawkes
Assistant Principal
E: richard.hawkes@westbourne.attrust.org.uk
T: 01473 742315