The BBC Comes to Westbourne: Share Your Story
 On Tuesday 15 March, students and staff at Westbourne Academy were excited to welcome a team of BBC presenters and a BBC production crew to showcase the 'Share Your Story Tour'.
The 'BBC100 Share Your Story' is part of the BBC's centenary celebrations for 2022, where the BBC are visit around 400 secondary schools across the UK, reaching 400,000 students.
The four 60-minute sessions involved carefully selected BBC Ambassadors sharing their inspirational journey with students in Years 7, 8, 9 and 10, in a bid to inspire them through the power of storytelling; sharing their personal experiences and career stories.
They were very fortunate to have Angelle Joseph (local presenter and DJ for Radio Suffolk) and Jacob Ottaway (journalist for BBC Essex) who shared their captivating stories with students. The showcase was hosted by Lindsay Russell, a British television presenter and former Blue Peter presenter until 2021.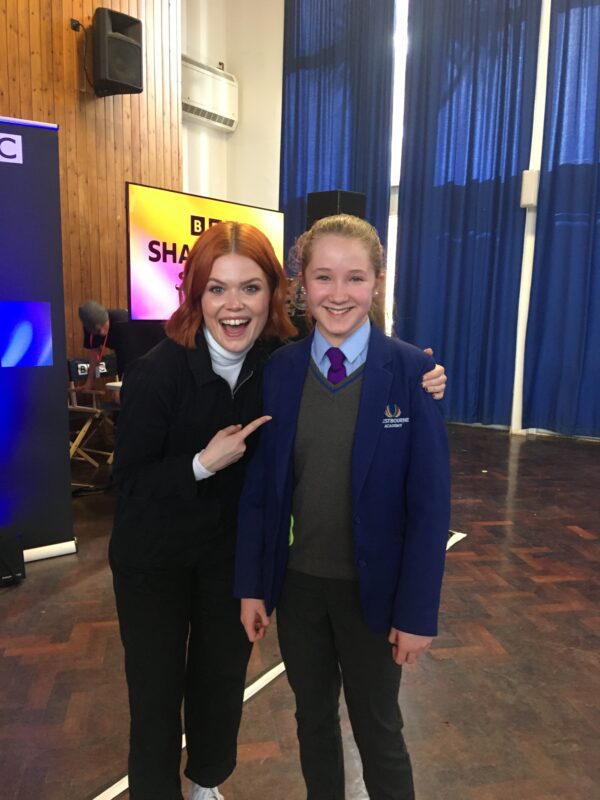 The four sessions ran fantastically, with students across all year groups engaging, asking questions and being very respectful. The depth of questioning and empathy the students showed towards both Angelle and Jacob made both teachers and the guests themselves extremely proud.
Sarah Bird, English Teacher at Westbourne said 'I was blown away by the maturity of students and their attitude towards the day. It was lovely to see the students realising that anything is possible and that the challenges young people may face growing up are not necessarily barriers for their adult lives and future careers. It was a humbling experience.'
Henry Bacon in Year 7 said 'It was really fun, we got to learn all about journalism and that your dream can change at any second and that it is ok.'  Ollie Methven in Year 9 said "The time we spent with the BBC provided a great opportunity for us to learn that no matter what happens, we can still share our stories. It really inspired me to know that it is really okay to share our emotions. You should never be scared''.
Danny Payne, the academy's Careers Education, Information, Advice and Guidance Coordinator said 'Encounters with employers such as the BBC are wonderful opportunities for our students to meet some fascinating people. Our young people were able to relate to Lindsay Russell and the two BBC Ambassadors because of the very personal stories they shared about their younger selves. They talked about what life was like for them growing up and going to school in the Ipswich area, about some of the personal challenges they faced and eventually overcame. Students were amazed to hear the different routes that Lindsay, Angelle and Jacob each took after leaving school that resulted in them working in the media industry and eventually for the BBC."
There will be a follow-up session for all students in their English lessons, where they will have the opportunity to share their own stories and engage in group discussions.
Moving forward, there is a nationwide 'Young Reporters' competition' where students submit their own stories to the BBC. The interest across all year groups is high and teachers will be supporting students in their submissions.
The following day, conversation in tutor time revolved around the experience and the career opportunities they were previously unaware of. Students assumed careers within the BBC and similar organisations were only available to those in the big cities. The message of the day which carried through was 'no matter what you go through and starting point, you can still achieve your goals'.
Miss Sarah Bird
English Teacher at Westbourne Academy