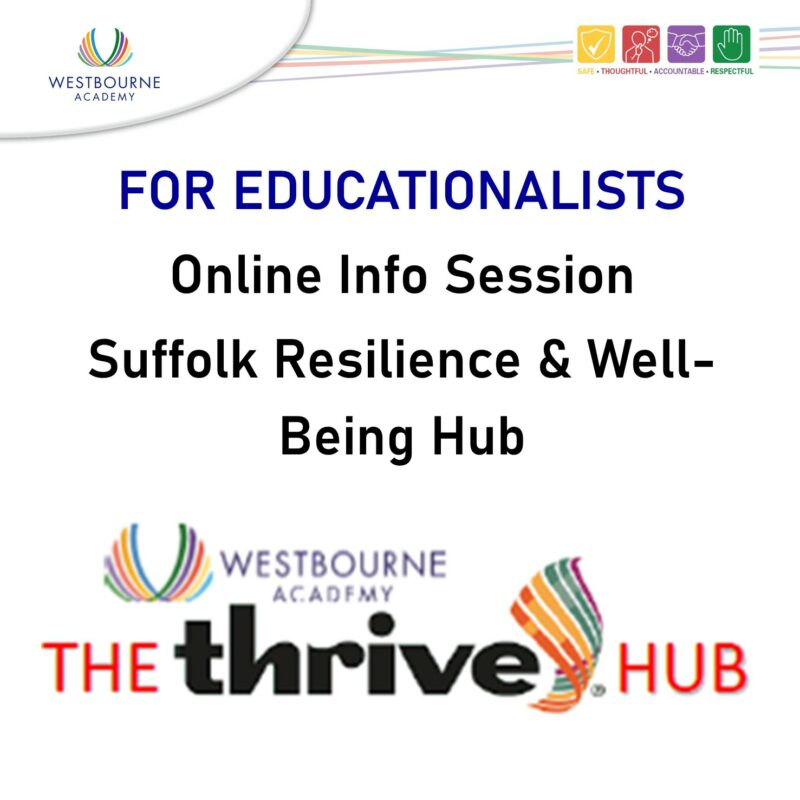 SUFFOLK RESILIENCE & WELL-BEING NETWORK – INFO SESSION
WED 18 MAY 2022 – ONLINE
I am the Lead for the newly launched Thrive Hub.  The Thrive Hub is one of six Wellbeing and Resilience Hubs, established by the Ipswich Opportunity Area.  The hubs are led by local schools, settings and colleges offering a range of support across 6 key areas:
Thrive
Trauma Informed
Adult Wellbeing
Early Years Resilience
SWERL
Medical Needs in Schools.
The Hubs work together as a network to promote the collective offer and provide support for children and adults within the town, with a long-term view to extend the reach of these key areas of work to a wider network across.  For more information on the Network and other hubs visit https://ipswichopportunityarea.co.uk/ioa-wellbeing-and-resilience-network/
The Suffolk Resilience and Wellbeing Network are offering an information session next Wednesday 18 May online from 3-4pm. You can sign up to the session here, which is open to anyone working in or with education settings in Suffolk from early years upwards.
The network is made up of 6 local hubs, specialising in Thrive, Early Years Resilience, UCL's "SWERL" programme, Trauma Informed practice, Medical Needs in Schools, and Adult Wellbeing. Each hub can offer significant expertise, support and CPD in their specialist area – some of which is fully funded.
Collectively they can support education settings from early years to HE in their individual approaches, but also provide a news, support and signposting service from an educator perspective as well as acting as a local voice for practitioners within the wider system. The network will continue beyond the lifespan of the IOA.
Please see information attached and please do pass on to colleagues across Suffolk, that you think may be interested.
Colleen Chetty – THE Thrive HUB Lead
Email: colleen.chetty@westbourne.attrust.org.uk