Emailed to parents, carers and students 14/10/21
Show Racism the Red Card – Wear Red Day
Friday 22 October 2021
CHANGE HEARTS. CHANGE MINDS. CHANGE LIVES.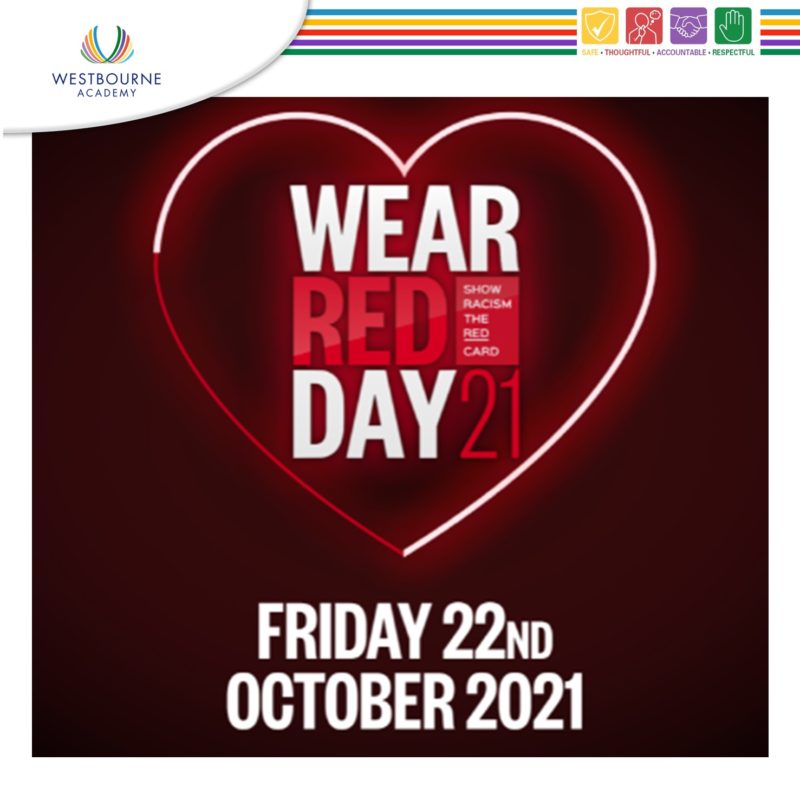 As an academy community, we will be joining thousands of other schools and colleges across the country, in supporting Wear Red Day on Friday 22 October.
Show Racism The Red Card was established in 1996 and is the UK's largest anti-racism educational charity. They aim to combat racism through enabling role models, who are predominately but not exclusively footballers, to present an anti-racist message to young people and others.
To this day, SRtRC continues to utilise the high-profile status of football and football players to help tackle racism in society. The majority of the campaign's work involves the delivery of educational workshops to young people and adults in schools, workplaces and at events held in football stadiums. Across the UK, they provide educational sessions to more than 50,000 individuals every year.
We will be holding House assemblies in the week commencing Monday 18 October to promote the event. On Friday 22 October, staff and students are invited to show their support by coming to school wearing a red coloured top or jumper. Students are still expected to wear their academy trousers and shoes but if they are wearing a red top, they do not need to wear their uniform shirt/tie, academy jumper or blazer.
To enable the charity to continue with their vital work, we are seeking a voluntary donation of £1 from staff and students on the day. Students do not have to participate and anybody who chooses not to wear a red top half, should please wear their full uniform as normal.
We look forward to seeing our academy community showing their support for one another a week on Friday and standing together to challenge racism and discrimination in all its forms.
Regards
Mr A Smith
Assistant Principal
Email: andy.smith@westbourne.attrust.org.uk
Tel: 01473 466106
General queries to: office@westbourne.attrust.org.uk or 01473 742315
Attendance or absence queries to: attendance@westbourne.attrust.org.uk  or 01473 466145
Free School Meals and Covid-19 queries to: roz.wiernicki@westbourne.attrust.org.uk or 01473 466148
School Money and data queries to: data@westbourne.attrust.org.uk or 01473 466115
VISION & VALUES: Westbourne is an inclusive academy. We support all students, regardless of starting point, to achieve their potential and develop the skills necessary for employment and life.