Emailed to parents and carers 16/11/21
COVID-19 Vaccination Info from SCC
The NHS team overseeing vaccinations across Suffolk have shared this flyer to share with parents/carers and students with information about the vaccinations including a link to where they can obtain appointments outside of the vaccination process in schools and settings.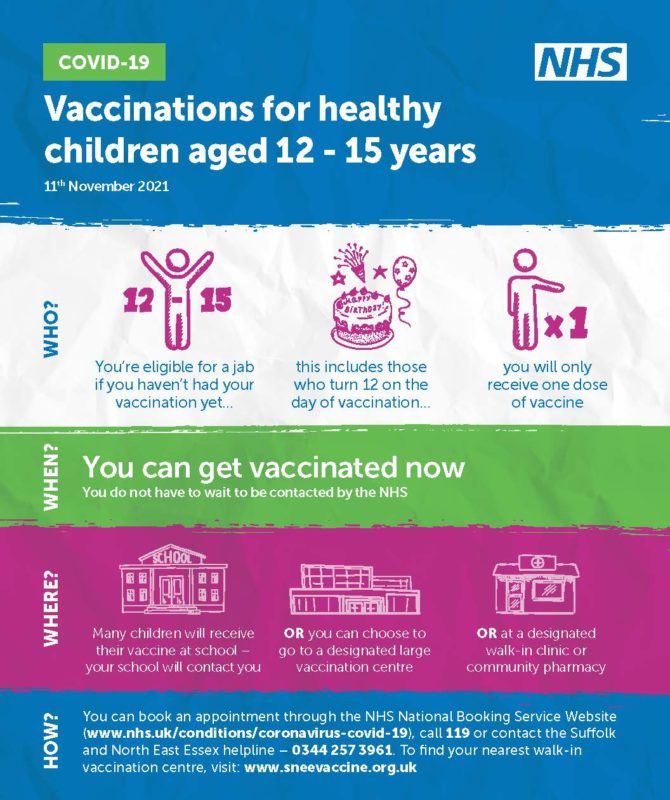 Appointments for 12 to 15 year olds can be booked by calling the Suffolk and North East Essex helpline on 0344 257 3961 or via the NHS National Booking Service website below.
Please note, the school immunisation service have said they are not coming back into school to vaccinate students who did not get the COVID jab on 1st November.

Young people who are 16 years and over will need to book their COVID-19 vaccination through the NHS website or use a drop-in clinic.
​To book a vaccination for 12 to 15 or 16 years and over please visit:
https://www.nhs.uk/conditions/coronavirus-covid-19/coronavirus-vaccination/book-coronavirus-vaccination/book-or-manage-a-1st-or-2nd-dose-of-the-coronavirus-covid-19-vaccination/
To find your nearest walk-in vaccination centre, please visit: www.sneevaccine.org.uk.
Regards
The Office Team
Westbourne Academy
General queries to 01473 742315 or office@westbourne.attrust.org.uk
Admissions queries to 01473 466148 or admissions@westbourne.attrust.org.uk
Attendance or absence queries to 01473 466145 or attendance@westbourne.attrust.org.uk
Data or School Money queries to 01473 466115 or data@westbourne.attrust.org.uk
Exam queries to 01473 466108 or celia.wastell@westbourne.attrust.org.uk
Free School Meal or Covid-19 queries to 01473 466148: roz.wiernicki@westbourne.attrust.org.uk
Facebook: westbourneacademy
Twitter: @WestbourneA
Instagram: westbourne_academy

VISION & VALUES: Westbourne is an inclusive academy. We support all students, regardless of starting point, to achieve their potential and develop the skills necessary for employment and life.